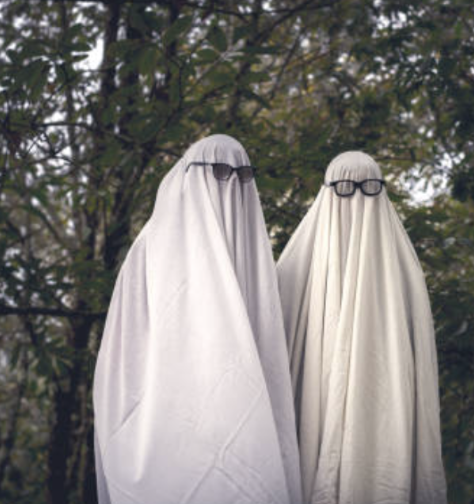 In a keynote she gave recently (that I wrote about last month) author Carmen Maria Machado talked about what it's like to be haunted.
"Hauntings aren't just about ghosts," she said. "Haunting is about what used to be, what is invoked, the way in which one thing means another.
"Whose ghost are you?"
She got me thinking, how ghost stories are popular, perennial, pervasive. They've been around since long before we wrote our stories down, and every culture has at least one ghost: Revenants, Yūrei, Banshees, Pontianaks, Jumbies, Tunche, and on and on.
As many and as varied as they are, ghost stories do share some elements. One, a ghost is the spirit of a person who used to be alive. That might seem obvious, but it's important to differentiate ghosts from other spirits, like demons and fairies and river monsters, who are supernatural in some way but were never human.
Another defining characteristic is, a ghost needs someone or something to haunt.
In some ghost stories, people see someone eerie, only realizing later that they were a ghost. That's it. That's the whole story. Or, (in horror movies mostly) someone dies angry, and then spends the rest of the story terrorizing the living, who may or may not deserve it.
For me, those are the least satisfying of ghost stories. I prefer ones where the ghost asks something of the living. Hamlet's father, demanding his murder be avenged; Sethe's daughter Beloved driving all the love and joy out of her home so she can have her guilt-ridden mother to herself.
This Halloween season, treat yourself and write a ghost story, just for the fun of it. As you do, ask yourself a few questions:
What does your ghost ask from the living?
What do the living want from their ghost? This is a way of excavating how and why they are haunted.
What happens to the ghost if they get what they've asked? Will they stick around to aid and protect the living? Or once satisfied will they, like Oscar Wilde's Canterville Ghost, take off to dimensions unknown?
What is your living character holding onto through their haunting? What should they maintain, and what should they let go?
At heart, ghost stories are relationship stories. The best ones know that the haunting goes both ways.
In Charles Dickens' A Christmas Carol, Jacob Marley is enduring a punishing, exhausting afterlife. When he returns to haunt his only friend Ebeneezer Scrooge, he asks Scrooge to listen and to change, that he might be spared the same fate. In so doing, Marley rescues Scrooge from the miserable, lonely life he'd been living. Surely, knowing that made it easier for Marley to drag around his heavy chains.

Kelly Caldwell
Dean of Faculty