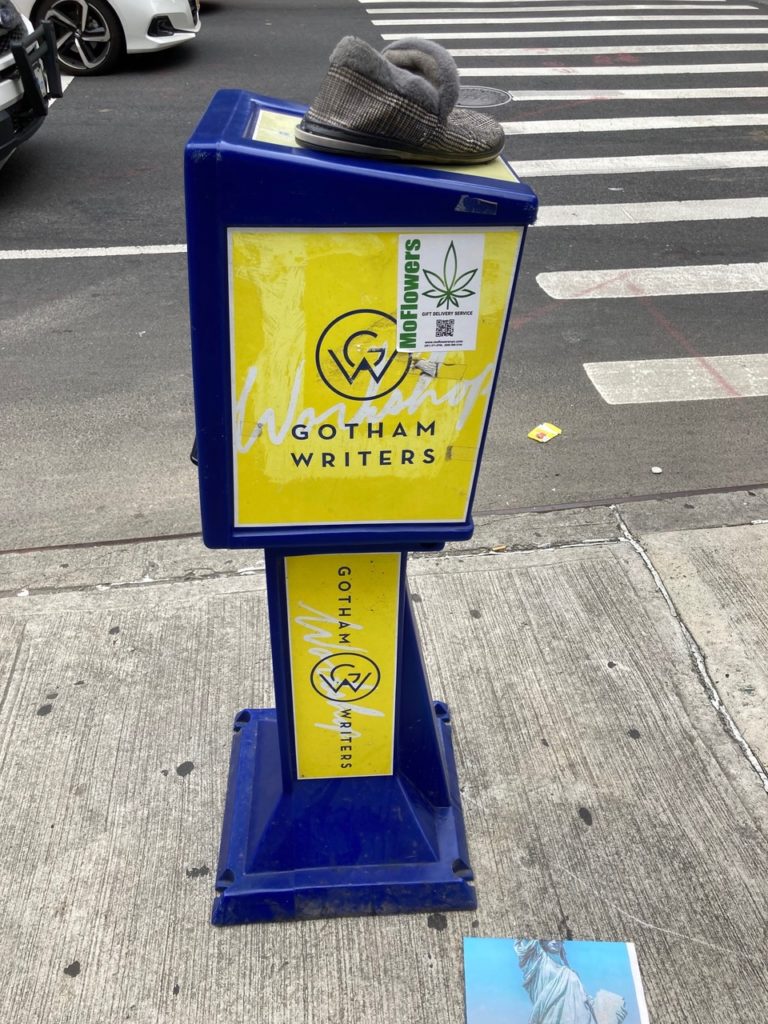 Gotham Writers Workshop was born in New York City, is based in New York City, and the very name invokes New York City (Washington Irving, way back, gave it the nickname "Gotham").
Truth is, we have more students living outside of NYC than inside, made possible by our Online and Zoom classes, not to mention commuting. But I like to think whenever you take a Gotham class—from anywhere in the world—we're bringing you the grit and glamour of this fabulous town.
If you look at our logo up there on top, you'll notice a hint of the bat signal and the Chrysler Building. Right?
Some notable bits of NYC news for us…
Our New York City classes have been on pause since March 2020, but they'll resume in a few weeks. Welcome NYC students: we can't wait to see you. (And it was great seeing so many of you at our Bryant Park appearances this summer.)
Also, if you've spent any time on the streets of New York, you've probably noticed the Gotham box—a free-standing box with a Gotham brochure inside. Like in the picture. After about 25 years as part of the NYC landscape, we've removed our boxes from the city streets. Paper and plastic aren't so environmentally friendly, and the pandemic increased our fears of touching strange objects, so it felt like the right time. Adieu Gotham box: your spirit will haunt those streets forever.
And…the Gotham Writers Conference is happening on Zoom this year, October 14-16. If you're dreaming of publishing a book, a good way to connect with the New York publishing world. At the very least, notice the snazzy subway design on our Conference pages.
Finally, I give you some nice quotes about NYC:
Tom Robbins's novel Even Cowgirls Get the Blues:
"In every direction, her tired eyes saw flashing lights, lights that caromed off the horizons and joined with the stars in the sky. The city seemed to be inhaling Benzedrine and exhaling light; a neon-lunged Buddha chanting and vibrating in a temple of filth."
Colson Whitehead's nonfiction book The Colossus of New York:
"Thousands of people pass that storefront every day, each one haunting the streets of his or her own New York, not one of them seeing the same thing."
Fran Lebowitz, interview with People magazine:
"When you leave New York, you are astonished at how clean the rest of the world is. Clean is not enough."
E.B. White's essay "Here is New York":
"But the city makes up for its hazards and its deficiencies by supplying its citizens with massive doses of a supplementary vitamin—the sense of belonging to something unique, cosmopolitan, mighty and unparalleled."

Alex Steele,
Gotham Writers President