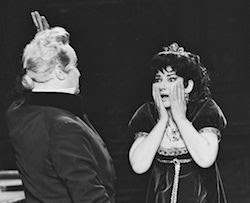 That's Italian for Before him all Rome trembled. These words come from Floria Tosca, the heroine of the opera Tosca, in reference to the chief of police Baron Scarpia. (We're now in Rome, circa 1800.)
Scarpia will spare the life of Tosca's lover if Tosca will grant him one wish: sex.
Tosca is torn. Her lover, Mario Cavarodossi, is a revolutionary arrested by Scarpia and will be sentenced to death if Tosca denies Scarpia. Does she give her womanhood away or save Mario's life?