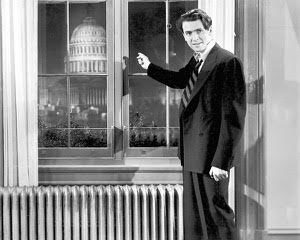 If you're reading this, then you probably love stories. Reading them, watching them, living inside them. Best of all, writing them.
As you may or may not know, we have all kinds of great things in the Resources area of our website. And one of these features is the Resources/Reading Lists. Here you'll find curated lists for various types of writings, with suggested works to read or watch, plus all kinds of recommended books, publications, and websites. (Of course, we include the three Gotham books.)
You can spend hours clicking away, and you can spend years diving into our suggested stories. While recently supervising an update of our lists, I couldn't help from getting delightfully sidetracked.
Going through the movies in our Screenwriting section, I realized I had never seen the classic Mr. Smith Goes to Washington, so I gave it a screening. It's a fantastic movie, and so refreshing if you find yourself discouraged by the recent political season.
I also found a new crime writer to read (Caroline Kepnes) in our Mystery section, and a new place I'd like to visit (Tamil Nadu in India) in our Travel section. I now have visions of immersing myself in these novels while taking the long flight to my otherworldly destination.
Writers don't explore stories just for fun, however. They study them for inspiration and insight. Quentin Tarantino says, "When people ask me if I went to film school I tell them, 'No, I went to films.'" He watched movies relentlessly, even working in a video store so he could take one home every night.  
Like Tarantino, you should delve into these stories, absorbing, analyzing, and, yes, pilfering.
For example, exceptionally "good" characters can be quite dull, but I gained insight into making such characters interesting when watching Mr. Smith Goes to Washington. The protagonist, played by a young Jimmy Stewart, is a thoroughly decent man who is sent to be a senator in Washington DC by the political machine that plans to use him as a pawn. We cheer for the good guy to win. But we relate to him all the more because he's naïve, occasionally hotheaded, and he's dazzled by the wrong woman. Yes, he's good, but he's also so human!
We teach you stuff like this in our classes, but you should also be exploring stories on your own. You'll develop into a better writer for it, and you may even lead a deeper life.


Alex Steele
President