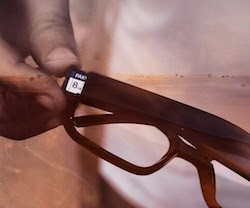 Yes, it's been dark lately in our world.
I was recently transfixed by a feature article by Joel Gunter for BBC Africa. A bashful young man from Ghana, who we'll call Azeteng, was fascinated, like me, by spy stories. Unlike me, he decided to undertake an espionage mission that would intimidate James Bond.

He would join the desperate caravan of people who paid corrupt smugglers to take them from West Africa into the greener pastures of Europe, paying his way by selling his livestock. However, his sights were not on Europe, but rather on capturing the crimes of the smugglers in photos taken with the spy spectacles he had purchased.
After making his initial payment, he traveled with his fellow migrants by bus to Mali, then in the back of a packed truck through the Sahara Desert.
Azeteng wrote in his diary. "In the desert there are no friends and no family, and only God stands as your friend. There is no water, no food and no trees. The desert looks like the sea, and the sun is unbearable."
Every step of the way, the migrants are asked for money and told to ask relatives for it if they've run out. If they don't produce the money, the women are often sold as sex slaves while the men are beaten or killed.
All the while…Azeteng was taking photos with his spy spectacles, along with collecting other pieces of evidence incriminating the smugglers. When some smugglers called him over, Azeteng, to be safe, quickly removed the memory card with the photos, swallowed it, then gave them the glasses as requested. Later he vomited up the memory card.
Eventually Azeteng escaped the smugglers and, with the help of an Algerian law student, returned home. He handed his evidence to the proper authorities, which helped them to make a good number of arrests.  Azeteng confessed, "What I have seen with my eyes is not easy."
Yet…Azeteng purchased another set of spy spectacles, planning to become a journalist, hoping to bring more of the world's wrongs into the light.
                                                            
It's an unforgettable story, which you can read here if you like. I was amazed and grateful that a writer was able to send me on this journey—aware that I was making it from the cocooned comfort of my home, with Amazon and Zoom just a tap away.
Stories really can take us anywhere, can't they?
Most of us have never experienced anything quite like the trials Azeteng has faced, but lately we've seen more existentially-precarious days than we're accustomed to.
If Azeteng can brave the dark and spy the light, then I guess we all can.

Alex Steele
President, Gotham Writers Workshop