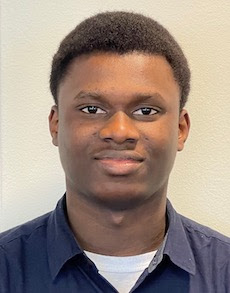 Perhaps you've heard about Gotham's BIPOC scholarships. We do four of them each year, awarding three or more scholarships in each category:
College Admission Essay Coaching
Applications: March 1 – May 15
Manuscript to Market (a boost to publishing a book)
Applications: June 1 – August 15
Creative Writing
Applications: September 1 – November 15

Professional Development (focuses on Business Writing and Grammar)
Applications: December 1 – February 15
Just two weeks left to apply for the Professional Development Scholarship, so spread the word.
Perhaps the best part of this, from our view, is hearing how the scholarships helped the recipients in a real-world way.
Here's Ifeoluwa Idakolo (from Houston, Texas) who received a 2021 College Essay Coaching Scholarship:
Cullen, my instructor, helped me with navigating the tricky waters of the personal essay. Without his red pens and corrections, I do not think my
essays would have stood out. Thanks to scholarships, like the one at GWW, for connecting people like myself with instructors like Cullen. Ultimately, this scholarship helped me bridge the gap between me and other more resourced applicants.
Ifeoluwa was accepted at Rice University. That's him in the picture up there.
Here's Josesphine Queen (from New Haven, Connecticut) who received a 2020 Manuscript to Market Scholarship:
It gave me access to invaluable opportunities: an online class on how to get published helped me refine my query letter; critique on my full manuscript by a literary agent helped bring out the story I needed to tell; a seat at a pitching roundtable at the Gotham Writers Conference directly led to me signing with an agent.
And it's quite interesting for us to read the applications. Here's Swati Ravi Nain (from the city of Thane in India) a recipient of our most recent Creative Writing Scholarship, responding to our request to describe a favorite object, evoking her father's prized fountain pen:
Something about its form evoked entire worlds in my mind. Worlds of shiny top hats, black umbrellas and handsome men singing in the rain. As the grown-ups took their afternoon siestas, I would write with it, heart thudding, hidden beneath my bed. The nib would move across the page, leaving behind swirls of gleaming, wet ink and I would be transformed from a little Indian girl to Dorothy Parker, spinning dark one-liners in distant New York, looking out of the window of some great Art Deco edifice that mirrored the upward reach of the pen. I still remember the day my father peeked beneath the bed and said, "The pen is yours."
The hardest part of the scholarship, from our view, is that we can't give everyone the award. But if you don't win on your first try, please try again.

Alex Steele
President, Gotham Writers Workshop