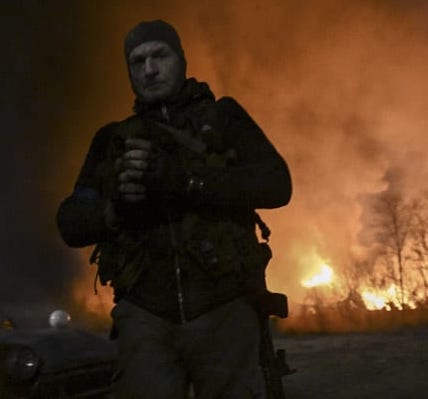 Syria. Yemen. Mali. Ukraine. War never stops.  

Writers do their best to bring us the human face of war, which they've been doing since at least Homer's Iliad. Let's hear from two of them…

Uliana Klimchuk lives in Kyiv. But as war loomed in Ukraine, she fled to Bulgaria with her family. Here she relates what happened when the war hit, as told to Grace Goldstein (daughter of Gotham teacher Laura Cahill) for Cosmopolitan:
 
I was feeling anxious, worried, everything that goes with war. I had a kind of anxiety attack. In those first few days, I didn't know what I could do to help. I was even thinking that it would be better for me to still be in Ukraine, to be with my country and go through what everyone else is going through. Instead, I found my own way to help. I found Facebook groups like "Ukrainians in Bulgaria." I found out that people are gathering, having strikes, and volunteering. So I did too.
 
I'm an official volunteer now with the Ukrainian House in Varna. We gather medicine, food, and clothes for refugees. People in Bulgaria bring us what we need.
 
Zamy Atlukhanova lives in Moscow. She was a Gotham intern a few years back while in the US on a Fulbright Scholarship. I've been texting Zamy to see if she's okay, knowing she's been protesting the war in the streets, risky business these days. Zamy told me this:
 
Last weekend I was at a monastery. We were sitting at the table, opposite three old women. One of them was talking about a house she had to build by herself because her husband passed away long ago.
 
"Oh, you're another one of us," another lady said, nodding knowingly.
 
"There will be more of us soon. With all these men dying."
 
I don't know if I am or ever will be able to show the sadness with which she said it. She sounded like a person who truly knows what the value of a human life is because she saw it disappear. And who knows that there is no glory in a war. There's no grandeur.
 
There are just people. Dying. People are dying. Day by day.  Every single day of all those endless 31 days of war.
 
And my only wish is to stop counting. And hopefully, today. Right away.

Throughout April, I'll be highlighting words from writers on war in my Thoughtful Thursday videos found on Gotham's Instagram, Facebook, and Twitter. Join me if you like.
 
Peace, or so we hope.

Alex Steele
President, Gotham Writers Workshop