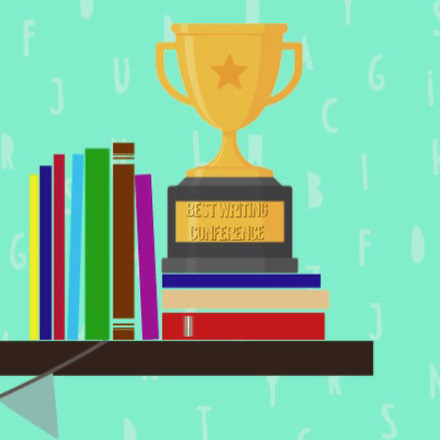 Yes, we have a Children's Book Conference coming up, May 21 and 22. On Zoom.
This is a great event if you have a children's book (picture book, middle grade, or YA) ready to go to market, or if you dream of publishing a children's book. It goes like this:

Day 1: Panels and Presentations, featuring writers and agents, including two Newbery Medal-winning authors: Matt de la Peña and Erin Entrada Kelly.

Day 2: Pitching Roundtables, where you get the chance to present your book to a table of two top-shelf agents who rep the kind of book you're pitching. (Most on Zoom, some in NYC.)
You can sign up for both days, or pick just one.
This follows the format of previous Gotham Conferences, but we have a beautiful new plan. Instead of one conference encompassing all kinds of books, we're doing a rotating series of four conferences, each one specializing in a type of book:

Children's Books
Genre Fiction
Literary/Commercial Fiction
Nonfiction
You can view the full schedule here.
The mastermind of this whole thing is Gotham's Director of Publishing Guidance, Josh Sippie. Here Josh explains the logic behind this plan:

I wanted writers to know they were in the right place. By being more specific with four separate conferences, we can dig deeper into important topics within each genre to allow for a more targeted experience. And having multiple conferences also allows more exploration for writers eager to write across genres.
You can see the full lineup of panelists, presenters, and agents for the Children's Book Conference right now, and stay tuned for the lineup of the coming conferences.
We believe our conferences are better than most (if not all) other conferences for these reasons:
We offer truly interesting and informative Panels and Presentations.
Our Pitching Roundtables give you in-depth exposure to agents right for your work, where you spend four hours with two agents, as well as some fellow writers.
Our prices are reasonable, in contrast to the high expense of many conferences.
And, wait, Gotham also offers other ways to get direct feedback from an agent:
The mission is personal to Josh, who says:
I moved to NYC on a whim in 2014 to get involved in publishing and existed solely on trial and error for years before finding my path. I would have loved these kinds of resources at the start of that journey.
Josh and the rest of us at Gotham are dedicated to giving you the best shot at success in the publishing world. We'd be honored to have you join us.