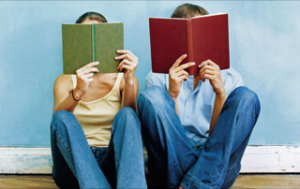 Last year, when I started planning my summer reading list, I decided—instead of combing the usual lists of Great Beach/Hammock/Backyard Reads—to follow the advice of author Melissa Harris-Perry, to read books recommended by people under the age of 18.
This is an inspired idea.
After collecting titles from a wish-list made by incarcerated teens, and also from nieces and nephews and the children of friends, I spent the summer falling in love for the second time with books I loved as a kid, and reading genres and titles I never would have chosen myself.
At one point, I opened the novel Journey to Topaz by Yoshiko Uchida, recommended by 11-year-old Aiden Cassilly. A few pages in, I realized I knew this book. I'd read it when I was Aiden's age. The heartbreaking story, the sensory details, one memorable passage parsing the word "apartment"—it all came rushing back.
As the months wore on, something else came rushing back: That unhurried, unadulterated pleasure I felt as a kid in summer, when I lounged in the sun and read whatever I wanted, just because I could.
It's a feeling I'd like everyone to share. So here's a new summer reading list for all of us, curated entirely by readers between the ages of 12 and 18.
It's a hell of a list—and a vivid illustration of the truth often revealed by stories: So much more unites than divides us.
Enjoy.
The Hitchhiker's Guide to the Galaxy by Douglas Adams
"It was the kind of sci-fi that someone who doesn't even really like sci-fi would like."
Ben Roberts, Maplewood, New Jersey, age 14
The Crossover by Kwame Alexander
"It's a basketball book."
Aiden Cassilly, Edgewater, Maryland, age 12
Red Queen by Victoria Aveyard
"Filled with extraordinary superpowers, adventure, and dangerous acts of rebellion, Red Queen tells a story of political conflict of lowly Reds against powerful Silvers, similar to struggles in present day social classes."
        — Elisabeth Seguin, York County, Virginia, age 14
Little Bee by Chris Cleave
"From the POV of two women, readers embark on an emotional journey about female empowerment, seeing worlds collide in the aftermath of a traumatic family vacation to Africa."
Veronica Seguin, York County, Virginia, age 16
Lord of the Flies by William Golding.
"It works as a simple adventure story or as a much more complex allegory. Either way, it's a great read."
— Harry Holtzclaw, Chesapeake, Virginia, age 18
The Outsiders by S.E. Hinton
"A really good book about teens."
Brennan Cassilly, Edgewater, Maryland, age 14
Things Fall Apart by Chinua Achebe
— Alexandra Plummer, Pittsburgh, Pennsylvania, age 16.


Kelly Caldwell
Dean of Faculty