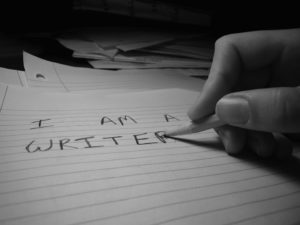 January is a busy time in the 'wellness' space.
Gyms and yoga studios are at their most crowded.
There is an appreciable uptick in meditation app downloads, Weight Watchers memberships, and Nicorette sales.
And Gotham classes are full to the brim.
And we love being part of your intentions for the year to come.
To help someone who's always wanted to try their hand at writing a short story or a song, to help someone finish that long-abandoned screenplay or finally commit their Iceland-trip story to paper – that's in large part why Gotham exists.
But people always wonder if it's 'okay' to take a class without a specific story to tell. And we certainly understand the question. It feels natural to enroll in a class if you have a goal in mind, something to have in your sights to pull you along.
I'm here to tell you, though, as I tell the scores who ask that question when they email or call: it is more than okay if you don't.
Our '101' classes – Creative Writing 101, Creative Nonfiction 101, Writing Scripts 101 – are designed to stir the creative pot and simply give you the tools and the confidence to try writing. Our Level I classes are chock-full of writing exercises that often turn into that major project you get feedback on through the class. You can even come into a Level II class if you're a more seasoned writer unsure of that next 'story step.' Because simply showing up might well be enough to kick free the idea that will become your next big thing.
In the end, that's really what being creative is all about. Showing up. In a class, in your chair, at your computer. The lofty goals – I'm going to finish this novel, I'm going to pitch this article, I'm going to publish this poetry collection – are great. We're happy to create space for that. But the more modest goal or intention or resolution to simply show up and give this writing thing a try is fine, too. Maybe even perfect to mark the beginning of this next spin around the sun.
Happy New Year, all.