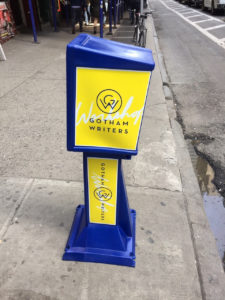 Seriously, folks, here's some stuff you need to know about.
Gotham Writers Conference 
We launch the first ever Gotham Writers Conference on October 25 and 26, in NYC. This is the place to be if you're interested in publishing a book.
Day 1 — A peek behind the publishing curtain with five eye-opening and entertaining panels and presentations. Plus, a free happy hour.
Day 2 — Pitching roundtables. Each table will have two agents and a group of pre-selected writers with book projects. You spend the day with your table—pitching, reading pages, and discussing your work. Some of these people will land agents. 
Anyone can attend Day 1, but you must be selected to participate in Day 2.
Plot 
Good plotting is essential to great storytelling. It's also one of the most vexing problems for writers.
We teach plot in many of our courses, but in September we debut two courses devoted solely to the subject, Plot 1: Mechanics and Plot 2: Machinations. You won't get foolproof formulas, but you will pick up all kinds of time-tested plot wisdom. For any kind of story, short or long.
These Plot courses are offered online, but will be coming to NYC soon.
Grammar 2: Expertise and Finesse 
Any writer worth their salt should know their grammar.  (And, yes, it's now widely considered okay to use their in that sentence.)
We have a very popular course called Grammar 1: The Basics. In October we debut Grammar 2: Expertise and Finesse. Grammar 1 keeps you from making mistakes that make you look bad. Grammar 2 helps turn you into a master of the grammar universe.
These Grammar courses are offered in NYC, but they'll be coming online soon.
Just Write
The late great screenwriter William Goldman said, "The easiest thing to do on earth is not write." It's not only hard to find the time, but it's hard to force yourself to dive into that blank page (or screen) even when you conjure a few spare hours. Social media calls for attention, the cats cry for food, even the laundry beckons.
We've come up with a great remedy: Just Write. You gather with fellow writers for three hours and you…just write. A teacher is there, offering brief interludes of insight and inspiration, but mostly you're just writing. There's something about the communal energy of the room that keeps you focused and engaged. And we don't allow cats.
The Just Write course is offered in NYC, but we'll find a way to do it online.
Our New Box 
For the past two decades, one of the most iconic sights on the NYC streetscape has been the yellow Gotham boxes with brochures inside. They're beat-up and anachronistic, but we love them too much to let them go. So we're doing something crazy—replacing them with brand new boxes in Gotham's signature colors—ink-blue and highlighter yellow.
All coming this fall, which is right about now!

Alex Steele
President, Gotham Writers Workshop