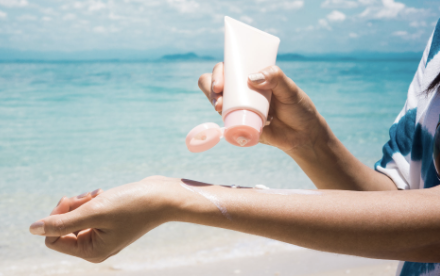 My friend and I are planning a beach vacation together, and lately, our giddy-anticipation texts back and forth have been fixated on one thing: Getting sand in our sunscreen.
 
We're stupidly excited about whether the sand will be the coarser kind that, when it mixes with your kefir-like SPF 50, magically transforms into a sugar-scrub exfoliant they sell at Lush for $30 a pop. Or maybe it'll be that baking-powder like sand, and hey, remember that time we tried that sunscreen that allegedly didn't come off on your clothes? It was the consistency of ranch dressing, and with that soft, powdery sand everywhere, applying it was like rubbing melting gummy worms to your forearms.
 
There's nothing like touch, is there?
 
Writers tend to neglect the sense of touch in our stories, (and smell, too!), preferring the flashier, sometimes easier senses of sight, sound, and taste.
 
Our stories suffer for this oversight —and not only because we ignore a wealth of material.
 
Did you know your body has two separate systems for processing touch? Your discriminative touch system tells you whether that fluttery brush of dune grass grazed your knee or your thigh. It's what tells you whether it tickled or whether it itched.
 
Your emotional touch system doesn't care much about where or how, but who. When the touch comes from a loved one, or is unwelcome, or satiates your skin hunger, your emotional touch system sends an entirely different set of messages to your brain. It's the system that makes touch essential in bonding one human to another.
 
When we do remember touch, we tend to go for one system or the other, the discriminative one, more often than not. But look what happens when you invoke both, as Yusef Komunyakaa does in these lines from "Lust:"
 
He longs to be
An orange, to feel fingernails
Run a seam through him.
 
Frequently we don't get granular enough. We'll describe something as "smooth," and move on.
 
Observe: Take off your shoes and feel the floor beneath your feet right now. (Unless you're on the subway!) Now change rooms, and do it again. Both floors may be smooth, or carpeted. But they're not the same, right? The waxy finish of your parqueted living room is not the same kind of smooth as your unyielding, chilly kitchen tile.
 
With touch, be choosy with your details and words, and profligate in your brain networks. And remember, simile and metaphor are your friends:
  
I can't read the River, can't see my hand
when it plunges elbow-deep
               to feel the cool against
                            the Mississippi heat—
            hot as a dog's mouth.                       
 –January Gill O'Neill, "The River Remembers:"
Your turn. Write about two best friends, barefoot and outdoors, and start the story with touch.

Kelly Caldwell,
Dean of Faculty