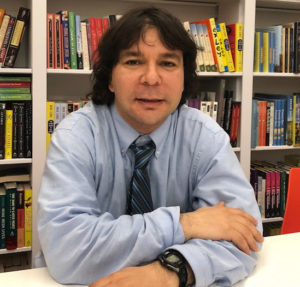 I've met so many unforgettable people in my years at Gotham I can't remember them all. I'll discuss one of them here because a documentary about him was recently released. It's called Jacob and you'll find it on Amazon Video. It's fascinating, fun, and I'm a featured player, so lots of reasons to watch.
The person's name is Jacob M. Appel. He used to teach fiction for Gotham, and he's a prolific writer, having published countless short stories, several novels, not to mention plays, essays, and poems. But that's not all. 
He collects advanced degrees like a squirrel gathers acorns. This is what he has, so far:
MA in European History, Columbia University
MA in American History, Columbia University
MPhil in American History, Columbia University
MFA in Creative Writing, NYU
MFA in Playwriting, Queens College
MS in Bioethics, Albany Medical College
MPH, the Mount Sinai School of Medicine
MD, the Columbia University College of Physicians and Surgeons
JD, Harvard Law School
That's right, among other things, he's a licensed doctor and lawyer. These days you'll see him practicing psychiatry in an ER on the upper west side of Manhattan.
So, yeah, Jacob is brilliant, but he's also modest, kind, funny, and quite inventive. We have a handful of articles he penned on writing on our website. Here's one, called Taking Part-Time Writers Seriously.
I was once asked to find someone to interview the author A.J. Jacobs at an event, just after he released his book The Know-It-All: One Man's Humble Quest to Become the Smartest Person in the World, the story of how he read the entire Encyclopædia Britannica. I picked the smartest person I could think of: Jacob. One of the best interviews I've witnessed—partly a meditation on the difference between knowledge and wisdom, which are two quite different things.
Knowledge can help you win a trivia contest, or perform heart surgery, or file a legal brief, or any number of useful things. But it's not the same as the kind of emotional intelligence that will make you a wonderful parent or friend or leader or even writer. That's not something you can learn in school, as Jacob would be the first to admit.
To me, what's great about the documentary is seeing how Jacob manages to synthesize all his knowledge into a kind of wisdom, while still being so humble and human. And my biggest takeaway from the story is this: live your life boldly.
I encourage you to watch the documentary Jacob. It was directed by Jon Stahl, who went to high school with Jacob and is also a former Gotham student. And did I mention that I am in this film?

Alex Steele
President, Gotham Writers Workshop